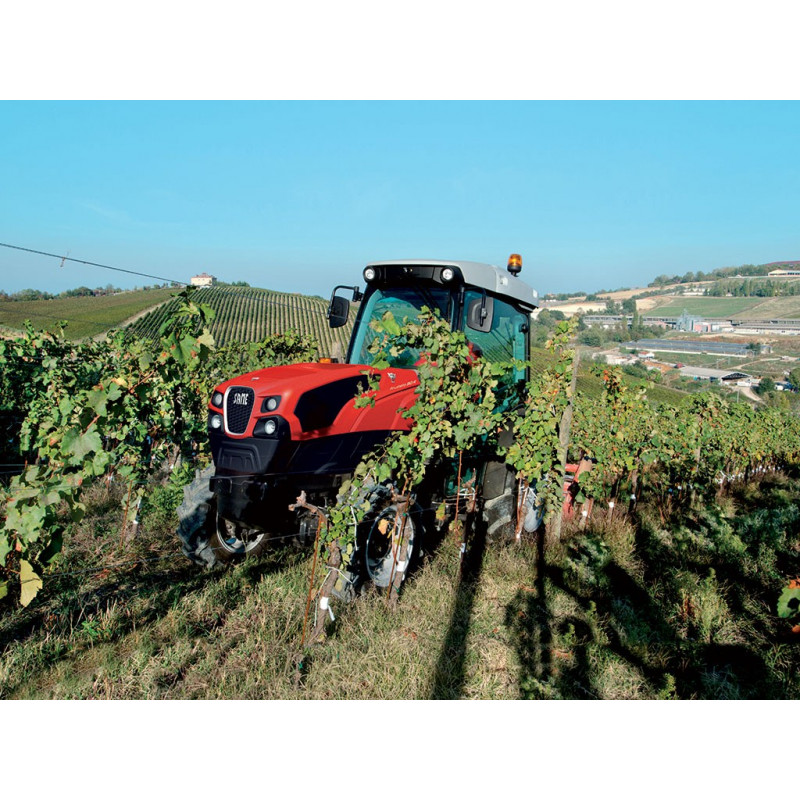 SAME FRUTTETO 90-90.4-100-105-115
The new Frutteto is the ideal machine for orchards with wide planting density, and the structure of the tractor also renders it suitable for work in the open field. This special machine is remarkable for its compact size, incredibly small turning circle and exceptional manoeuvrability.
Available in a wide range of configurations, with cab or roll-bar and platform (again, specifically designed to fit the selected tyres) and with mechanical controls or electronically-controlled rear linkage and hydraulic distributors. In short, efficiency, manoeuvrability and comfort have been given top priority in the design of the Frutteto, to enable professionals to further improve their productivity.
Frutteto machines are fitted with the optimised unit cylinder with a capacity of 962 cm³, and are available in the compact 3-cylinder version, with a focus on manoeuvrability, and the high-powered 4-cylinder version, with enhanced traction. The power of these tractors ranges from 75 to 113 hp - the maximum available today for specialised tractors
The gearbox, which features 3 gears and 5 speed ranges, ensures increased versatility and improved efficiency, enhanced by the extensive possibilities for configuration.
All models of the Frutteto are equipped with a double tandem pump, along with a wide choice with regard to the number and position of rear and central distributors (6 and 4 couplers respectively), which in turn may be fitted with a separate flow regulator. In addition, all arms and tie rods are designed with great care, so that the rear linkage (whether mechanical or electronic) can handle even the heaviest equipment without hesitation, with the same applying to its first-class lifting capacity of 2800 kg. A 1500 kg front lift is also available on request, in combination with the 1000 rpm front PTO. The rear PTO (with 4-plate wet clutch) can operate at all four speeds typical of speciality tractors, or rather 540/1000/540 ECO and synchronised, the latter of which is optional.
For a tractor designed for very specific uses such as the Frutteto, the attention paid to the design of the driver's seat is crucial. All Frutteto models boast low noise levels, top-class ergonomics and ease of use as standard. The curved hood and nose allow the Frutteto to pass safely and easily between even the most narrowly-spaced rows, without damaging the crop.
11 altri prodotti nella categoria
Compra adesso e risparmia
I modelli della serie Same Frutteto Classic rappresentano il massimo delle prestazioni tra i...
Compra adesso e risparmia
Nuovo SAME Frutteto CVT S: la perfetta integrazione tra...